Being hit by a car can change your life in an instant. One moment, you are driving safely on the road, enjoying the scenery and the music. The next moment, you could be facing a nightmare of life-threatening injuries and tens of thousands of dollars in medical bills, all the while being unable to work and struggling with post traumatic stress disorder. You may not know what to do, who to trust, or how to get justice for yourself and your loved ones.
That's where we come in. At The Law Offices of Jorge Luis Flores, we have been fighting for the rights of car accident victims since 2002 and have recovered tens of millions of dollars for our clients. Whether you were hit by a drunk driver, a distracted driver, a reckless driver, or an uninsured driver, our personal injury lawyers can help. Don't be impressed by the friendly insurance adjusters; behind their smiling faces lies a corporate machine that is often aggressive and unfair in their dealings with accident victims like you.
Our experienced car accident attorney, Jorge Luis Flores, has over 21 years of experience in dealing with insurance companies and countering the tactics they use to minimize victims' payouts. We will fight tooth and nail to make sure you receive a just outcome, even if it means taking the fight to court. We are fully prepared to go to litigation and present your case before a judge and jury.
If you or someone you love has been injured in a motor vehicle accident in Covington, Georgia, you need to act fast. The sooner you contact our accident lawyer in Covington, the better we can protect your rights and interests. Call our law firm today at (770) 760-9292 or fill out our online form to schedule your case evaluation.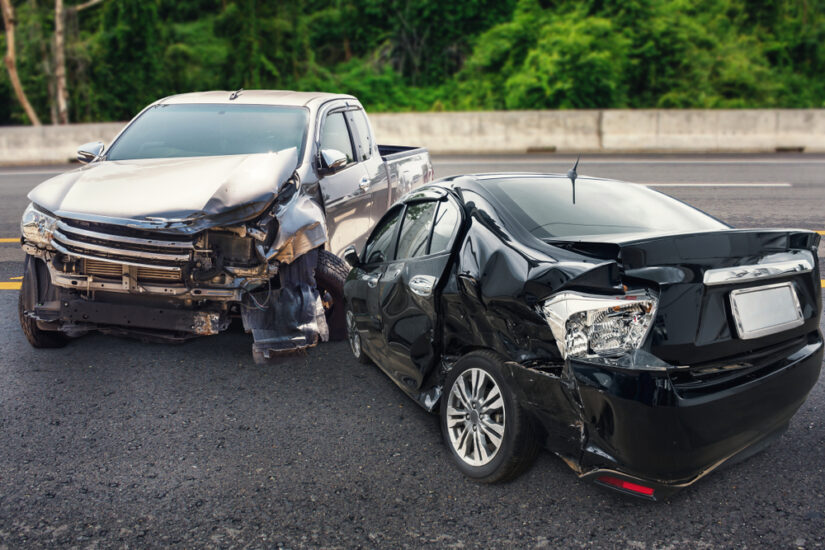 Georgia Laws That Can Affect Your Compensation
When it comes to determining how much compensation you could claim from the at-fault party that caused your car crash, there are certain laws you have to be aware of.
Statute of limitations
This refers to the time limit for filing a personal injury lawsuit in Georgia. According to Georgia Code section 9-3-33, you have two years from the date of the accident to file a lawsuit against the at-fault party. If you miss this deadline, the court will likely dismiss your case and you will lose your right to compensation.
Modified comparative negligence
Like most states, Georgia allows you to recover compensation even if you are partly to blame for the accident. However, as per Georgia Code 51-12-33, you have to be less than 50% at fault for the crash and your damages will be reduced by your percentage of fault. For example, if you were 20% at fault and your damages were $100,000, you can only recover $80,000.
But if you were 50% or more at fault, you cannot recover anything.
Minimum liability insurance
In Georgia, all drivers must have insurance coverage of at least $25,000 per person and $50,000 per accident for bodily injury liability, and $25,000 per accident for property damage liability. So, if you are injured by another driver who has the minimum coverage, the most you can recover from their insurance company is $25,000 for your injuries and $25,000 for your vehicle damage.
Uninsured/underinsured motorist coverage
This is an optional type of insurance coverage that protects you if you are injured by a driver who has no insurance or not enough insurance to cover your damages. Georgia Code 33-7-11 states that drivers can choose to purchase uninsured/underinsured motorist coverage up to the same amount as their liability coverage.
To give you an idea, if you have $100,000 per person and $300,000 per accident for liability coverage, you can also have $100,000 per person and $300,000 per accident for uninsured/underinsured motorist coverage.
Notice of claim against government entities
If your vehicle crashed and you suffered injuries because of a government employee or agency in Georgia, you must give written notice of your claim to the government entity within 12 months of the date of the accident (Georgia Code 50-21-26). This notice must include your name, address, date and place of the accident, nature of your injuries, amount of damages claimed, and other relevant information. If you fail to give proper notice within the time limit, you may lose your right to sue the at-fault party.
Time limits for reporting car accidents
You must report a car accident to law enforcement if it results in injury, death, or property damage exceeding $500. According to Georgia Code § 40-6-273, the crash should be reported immediately or as soon as possible after it occurs. If you don't do this within a reasonable timeframe, you may face serious penalties.
How The Law Offices of Jorge Luis Flores Can Help Protect Your Rights
Having a trustworthy and experienced Covington car accident lawyer like Jorge Luis Flores in your corner is crucial to getting the compensation you are entitled to. He will go the extra mile to ensure a fair resolution for your car accident claims so you can concentrate on your recovery.
Explaining your rights
During your initial consultation, our car accident attorneys will sit down with you and explain your rights in a way that's easy to understand. We will make sure you know what you deserve in terms of compensation, so you feel empowered and informed throughout the process.
Collecting evidence
We will work diligently to gather all the important information and evidence related to your accident. This could include taking photos of the accident scene, obtaining your medical records to show the extent of your injuries, and interviewing witnesses who saw what happened. By gathering strong evidence, we can build a rock-solid case to support your car accident claim.
Negotiating with insurance companies
As someone who has over two decades of experience identifying and refuting the particular strategies employed by insurance providers in Georgia, our legal team is well-prepared to handle negotiations on your behalf. We will fight to get you a fair settlement that covers your medical expenses, lost wages, and other damages resulting from the accident.
Calculating damages
Figuring out how much money to ask for in your claim can be overwhelming, but we are here to help. We will assess all your losses, like hospital bills, prescription medications, post-treatment rehabilitation, lost income, and pain and suffering, and calculate the total amount you should seek in compensation. Our goal is to make sure you are not left with financial burdens in the aftermath of the crash.
Handling legal paperwork
Personal injury cases – like car accidents – involve a lot of paperwork, and it is critical that everything is filled out correctly and submitted on time. Your legal team at The Law Offices of Jorge Luis Flores will take care of all the paperwork, saving you the hassle and ensuring that no crucial details are overlooked. You can rely on us to handle every aspect of the legal process from A to Z.
Representing you in court
If your case goes to court, there is no need to worry. We will be right there by your side, representing you in front of the judge and/or jury. Our extensive litigation experience in Georgia courts means we know how to present your case persuasively for the best possible outcome.
In addition to representing your interests in a legal capacity, we are available 24/7 to answer any questions you have and offer the professional guidance you may need.
Frequently Asked Questions
What are the most accident-prone roads in Covington, GA?
Every city in the world has certain stretches, particular roads, that are well known for their increased risk of accidents – Covington is no exception. Whether it's due to poor road conditions, high traffic volume, low visibility, or reckless drivers, these roads can pose a serious threat to your safety. Make sure to be extra vigilant when traveling on the following roads in the city:
Interstate 20 (I-20)
U.S. route 278 (US 278)
Georgia state route 36 (GA-36)
Georgia state route 142 (GA-142)
Georgia state route 81 (GA-81)
Should I call the police after a car accident in Covington, even if it's minor?
Absolutely. It is essential to call the law enforcement after any traffic accident, even if it is just a minor fender bender. The police will create an official accident report that can be valuable when you file your insurance claim or a lawsuit because this report contains all the important details of your accident.
How do I know if I have a valid personal injury claim after the accident?
You may have a valid claim if you can prove three elements:
The other driver was negligent or careless and caused the accident;
You suffered injuries (or property damage) as a result of the accident; and
Your damages are not too old or too minor to be compensated.
To prove these three legal elements, you will need evidence such as the police report, photos and videos of the scene, medical records and bills, witness statements, etc.
Should I talk to the other driver's insurance company?
No, it's not recommended without consulting with your own insurance company or a lawyer first. This is because the other driver's insurance company may try to get you to admit fault, accept a low settlement, or sign away your rights. They may also record your conversation and use it against you later.
You should only give them your basic information such as your name, address, phone number, and insurance information. Don't give them any details about the accident or your injuries. Also, do NOT sign any papers or agree to anything without reading them carefully or getting legal advice.
How long does it take to settle a car accident case in Georgia?
There is no definite answer to this question because it depends on many factors such as the severity of the accident, the extent of the injuries, the amount of damages, the cooperation of the insurance companies, the availability of evidence, and so on. Many car accident victims' cases settle within a few weeks or months, while others may take years to resolve.
How much do Covington car accident lawyers charge in Georgia?
Most auto accident attorneys in Covington, and Georgia as a whole, typically charge their fees on a "contingency fee" basis. This means they only get paid IF they win your case and secure compensation for you. If they are successful, they will take a percentage of the compensation as their fee.
The exact percentage may vary depending on the lawyer and the complexity of your case, but it is usually around 30% to 40% of the amount recovered. It's important to discuss the fee arrangement with your lawyer upfront, so you know what to expect and there are no surprises. Remember, with a contingency fee, you don't have to pay any car accident lawyer cost upfront, and their fee comes from the financial compensation they obtain for you.
What to do if someone sues you for a car accident in Georgia?
If you receive a lawsuit, don't panic or ignore it. Take it seriously because it's essential to address the situation right away. The first step you might want to take in this situation is to get in touch with a personal injury attorney as soon as possible. They will be able to protect your interests and navigate the legal process on your behalf.
Next, we recommend the following steps:
Notify your car insurance company about the lawsuit ASAP.
Collect all relevant documents related to the accident, including police reports, medical records, and any evidence you may have to support your case.
Work with your car accident attorney (or your insurance company) to file a response to the lawsuit within the specified time frame. Ignoring it can lead to a default judgment against you.
Your attorney may negotiate with the other party to reach a settlement agreement, to help avoid a trial and resolve the matter more quickly.
If a settlement is not possible, your case may go to court. Your attorney will represent you, present your side of the story, and defend your rights during the trial.
Why Choose Us as Your Covington Car Accident Lawyers?
Worried that you will have to shoulder the burden of your injuries even though the accident wasn't your fault? The dedicated legal team at The Law Offices of Jorge Luis Flores won't let that happen. We will demonstrate to the insurance company why you deserve maximum possible compensation for your injuries and losses. Our goal is to make sure you are treated fairly and receive the money you need to recover from the accident's impact on your life.
Here's how we will do that:
Investigate: We will carefully examine the scene of crash, study the police reports, talk to witnesses, and scrutinize any available photos or videos of the crash, to investigate and establish who was at fault for the accident.
Calculate: We will review your medical records and consult with doctors to understand the extent of your injuries. We will also consider other losses, like missed work days or damage to your vehicle. This way, we can calculate the full impact the accident has had on your life.
Gather: To prove to the insurers that the other driver was careless, we will collect compelling evidence, such as physical and forensic evidence from the accident site, traffic camera footage, photos and videos, statements from witnesses who saw the other driver breaking the rules, reports of accident reconstructionists and other experts, as well as any other proof of their negligence.
Decode: Insurance policies can be complicated to interpret, so we will check both your policy and the policy of the at-fault driver to see how much coverage is available for your claim.
Precedence: We will refer to past cases with similar situations to support your claim, and show how courts have awarded compensation in similar accidents, which can strengthen your argument for fair compensation.
No matter where or when the accident happened in Covington or surrounding areas in Newton County, Georgia, we are here to help. Call us at (770) 760-9292 now or contact us online and let us get started on your case.