In the city of Covington, GA, finding a law firm with slip and fall attorneys dedicated to helping victims of fall accidents receive compensation for their fall injuries can be helpful. Experienced personal injury lawyers will use their extensive knowledge of premises liability law to help injury victims navigate the complex legal processes following fall injuries.
Contact The Law Offices of Jorge Luis Flores, and we will explain your auto accident rights. You could be entitled to compensation that you are not aware of.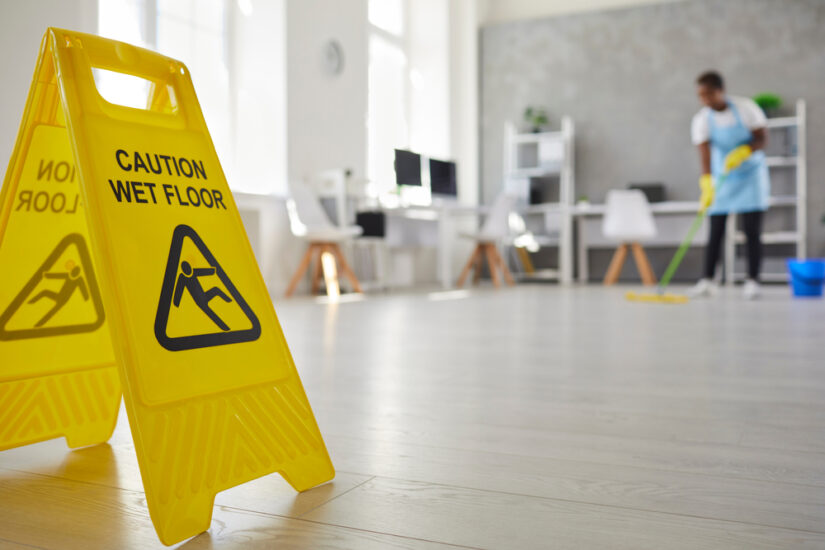 Georgia Premises Liability Law
Premises liability and personal injuries resulting from fall accidents are serious in Georgia law. GA liability laws hold property owners and business owners as the responsible party if hazardous conditions on their property cause an injury.
Georgia's liability extends to both business owners and individuals. In Covington, slip and fall lawyers can use their experience in every personal injury case they handle, especially when it involves a store owner's negligence or a hazardous situation on public property.
Proving Fault in a GA Slip and Fall Claim
Proving fault in a slip and fall case is crucial to a successful personal injury claim. Under GA premises liability, the victim must prove that the property owner was aware of the dangerous conditions and did not take adequate steps to fix them.
An experienced Covington personal injury lawyer from The Law Offices of Jorge Luis Flores will gather evidence, such as an accident report, photographs of the hazardous condition, and witness statements, to build a strong case.
Understanding Georgia Premises Liability Law with the Help of an Attorney
An experienced attorney will help you understand the intricacies of Georgia premises liability law. They will clarify how the law applies to your particular case and what it takes to prove the fault of the business owner.
Your GA fall attorney can ensure that your claim meets all necessary deadlines, as Georgia law imposes a strict two-year statute of limitations for personal injury claims. Contact The Law Offices of Jorge Luis Flores to get the assistance of experienced, certified attorneys.
The Role of Insurance Companies in GA Slip and Fall Accidents
Insurance companies play a significant role in slip and fall accidents. It's typically their job to compensate the victim for their injuries through the property owner's homeowners' insurance or business liability insurance.
However, dealing with insurance companies can be challenging, as they often seek to minimize their payouts with lowball offers. This is where The Law Offices of Jorge Luis Flores can be invaluable, representing your legal interests and negotiating a fair settlement on your behalf.
What Is the Law for Slip and Fall in Georgia?
GA slip and fall law states that property owners have a legal obligation to ensure safe conditions on their premises. This means that if a hazardous condition on the property of a store owner causes an injury, they can be held liable. Keep in mind that the injured party must prove that the property owner was aware of the conditions and did not correct them.
How Are Property Owners Affected by Premises Liability Law?
Covington, GA property owners are subject to premises liability laws, which means they must maintain safe conditions on their property. If a person is injured due to a fall accident, the owner may be held liable for medical expenses, lost wages, and other damages when they've failed to address the hazardous conditions that led to the accident.
What Is the Statute of Limitations for a Slip and Fall in Georgia?
The Georgia statute of limitations for a slip and fall claim is two years from the date of the accident. This means that injured victims have a two-year window to file a personal injury claim. Consulting with a slip and fall injury lawyer as soon as possible after an accident can help ensure all the facts are gathered and that your claim is filed within this timeframe.
How Long After an Accident Can You Sue in Georgia?
Under Georgia law, you have up to two years to sue after a slip and fall accident. However, it is advisable to seek a legal consultation with a Covington personal injury lawyer as soon as possible to initiate your claim, recover compensation, and address any medical costs and lost wages incurred.
How Much Do Accident Lawyers Charge in Georgia?
Most personal injury lawyers operate on a contingency fee basis. This means they only collect fees if they successfully recover damages in your claim. This gives injured victims access to legal options they might not otherwise afford. Discuss the specifics with an adept attorney from The Law Offices of Jorge Luis Flores in a free consultation right away.
Recover Compensation with the Help of a Slip and Fall Injury Lawyer
With the assistance of a lawyer, injured victims can recover compensation for a variety of damages. This includes medical expenses incurred due to the accident, such as:
Emergency room visits
Surgeries
Physical therapy
Ongoing medical costs
Lost wages
In many cases, victims may also be entitled to compensation for non-economic damages like pain and suffering, emotional distress, and loss of enjoyment of life.
A Covington Personal Injury Lawyer can Help
When you're injured in a slip-and-fall accident, the right attorney can make all the difference. A Covington personal injury lawyer from The Law Offices of Jorge Luis Flores can help you gather evidence, understand Georgia law, and guide you through the process of filing a personal injury claim.
How Slip and Fall Lawyers Offer Assistance
Slip and fall lawyers from The Law Offices of Jorge Luis Flores help clients understand their rights under Georgia premises liability law. We also gather evidence to establish fault proving the property owner knew or should have known about the hazardous condition. Finally, we will negotiate with the insurance company to secure fair compensation for medical expenses, lost wages, and other losses suffered due to the accident.
When you're facing the aftermath of a fall injury, knowing you have a dedicated legal team in your corner can bring a sense of security. Our Covington, GA personal injury attorneys understand the challenges that come after a painful accident. Call The Law Offices of Jorge Luis Flores for a free consultation and get the support you need to move forward.
Seek Justice with a Slip and Fall Lawyer
If you have suffered injuries due to a slip and fall accident, it is essential to seek legal assistance promptly. By doing so, you will ensure that all crucial evidence is preserved, giving you the best chance of a favorable outcome.
A Covington slip-and-fall lawyer will help you throughout the legal process, from gathering evidence to representing you in court if necessary. Navigating a slip-and-fall claim can be a complex and challenging process. However, with the help of a skilled personal injury lawyer in Covington, GA, you can pursue a claim for compensation with confidence.