You may think that driving on the roads of a small town like Covington is safe, scenic even. What you may not realize is that trucks make up for a huge part of this city's traffic, delivering consumer goods and hazardous materials. They are definitely essential for our economy, but they are also extremely dangerous for the people who share the road with them. After all, trucks are also driven by drivers who may be tired from long shifts or worse, under the influence of alcohol or drugs. When a truck driver is not 100% focused and vigilant behind the wheel, their truck can become a weapon of mass destruction.
When a massive commercial vehicle weighing tens of thousands of pounds hurtles towards you, the results are catastrophic and tragic. A crash like this can cause severe injuries like brain damage, spinal cord injury, amputation, burns, or organ damage. In many cases, truck accident injuries can be fatal.
If you or someone you love has been injured or killed in a truck accident in Covington, Georgia, you need to take action immediately and reach out to us at The Law Offices of Jorge Luis Flores. The longer you wait, the harder it will be to prove your case and get your compensation. We have been helping truck accident victims since 2002, and have earned a reputation for excellence and success. Whether the truck collision occurred due to:
A manufacturing or design defect in the vehicle
A driver who was speeding, drunk driving, tired, distracted, or intentionally reckless
Poor road conditions in Covington, GA
Our Covington truck accident lawyer team has the skills and resources to hold the at-fault party responsible for your injuries and help you rebuild your life with dignity. Call our experienced truck accident attorney today at (770) 760-9292 or fill out this online form to set up a case consultation.
Negligent Practices of Trucking Companies in Covington, Georgia
Freight carriers and transportation companies are supposed to follow certain rules to ensure the safety of their drivers and other people on the road. However, some operators care more about their bottom line and thus, cut corners. Drawing on our 21+ years of experience, our truck accident lawyer at The Law Offices of Jorge Luis Flores has identified the following factors that contribute to the alarming frequency of truck accidents in Covington and other cities in Georgia:
Hiring unqualified drivers
Truck drivers don't only need to have special training, but they must have a valid commercial driver's license (CDL) and a clean driving record. And yet, some operators hire drivers who are not qualified, or have a history of traffic violations, DUIs, or drug abuse. It's highly doubtful these drivers know how to drive safely, let alone handle emergencies.
Failing to inspect trucks
Trucks are complex machines that need regular maintenance and inspection to function properly. A truck's brakes, tires, lights, signals, steering, suspension, etc. must be checked on a regular basis, and any problems must be fixed immediately. But you'll be surprised how many trucks out there are operating with worn-out components. It's also quite common for some companies to falsify inspection documents.
Overloading the trucks
Each truck has a limit on how much weight it can carry and how it can distribute that weight on its trailers. Freight companies should follow these limits and load their trucks correctly, "should" being the operative word. What actually happens is some carriers put too much weight on their trucks or load them unevenly so they transport more goods and maximize their profits. This affects the balance and stability of their trucks and makes them harder to control.
Violating hours-of-service (HOS) regulations
Like all of us, truck drivers need to rest regularly to stay alert and focused on the road. The law sets limits (called hours-of-service) on how many hours truck drivers can drive without taking a break or sleeping. Trucking companies are legally required to keep records of their drivers' HOS using electronic logging devices (ELDs) to ensure their drivers don't drive when they are tired or sleepy. Violation of these regulations, however, is rampant as many carriers force their drivers to drive longer than they should.
Another alarming fact is that companies may falsify or tamper with their ELDs to deny taking any responsibility for their drivers' fatigue that led to the accident. This is why even if you think you have a strong truck accident claim against the trucking company, your experienced truck accident lawyer needs to move fast to prove their negligence – before crucial evidence is destroyed.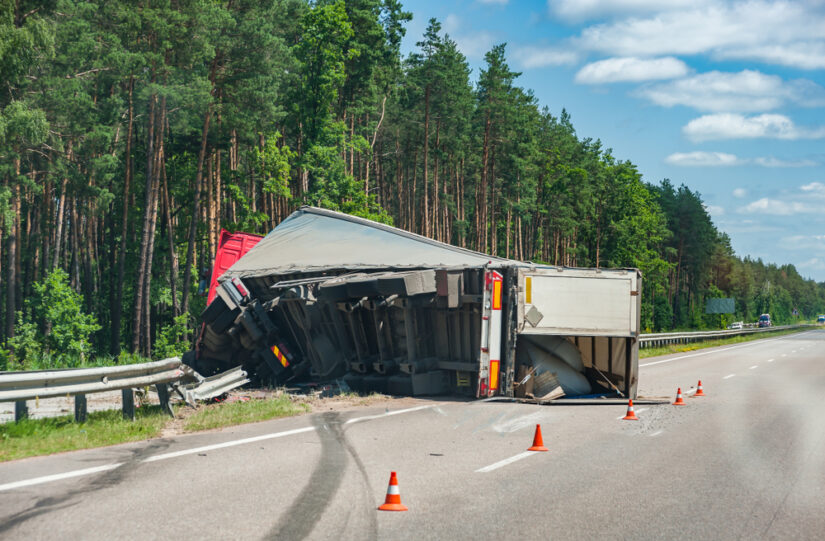 State & Federal Regulations for Commercial Trucks in Covington, GA
In Georgia, all commercial motor vehicles (CMVs) must comply with specific requirements to ensure safety on the roads; failure to meet these legal standards can lead to liability for the trucking company or driver if an accident occurs.
CMVs are vehicles that are used for transporting goods or passengers for compensation, or that have a gross vehicle weight rating (GVWR) of 10,001 pounds or more, or that carry hazardous materials requiring placards. CMVs must comply with both federal and state regulations to operate safely and legally on Georgia roads.
Some of these regulations are:
Driver qualifications: Drivers must be at least 18 years old (21 years old for interstate travel), have a valid commercial driver's license (CDL) or instruction permit, pass a physical examination, and have a good driving record.
Hours of service: Drivers must follow the federal hours of service rules, which limit the amount of time they can drive and work without taking a break or resting. For example, drivers carrying property can drive up to 11 hours after 10 consecutive hours off duty, and cannot drive beyond the 14th consecutive hour after coming on duty.
Vehicle inspection: Trucks must be inspected before and after each trip, and any problems must be reported to the trucking company right away. The company must ensure that their vehicles are regularly inspected, repaired, and maintained according to federal standards.
Cargo securement: Cargo must be properly secured to prevent it from shifting, falling, or spilling during transit.
Liability insurance: Commercial trucks must have a minimum liability insurance coverage of $750,000 for vehicles that weigh over 10,001 pounds and transport non-hazardous goods. This amount may vary depending on the type and weight of the cargo, such as hazardous materials, passengers, or household goods. For example, trucks carrying hazardous materials must have a minimum liability insurance coverage of $1,000,000 or $5,000,000, depending on the type of material.
If any of these regulations were violated in any way, and it resulted in (or contributed to) your accident, you may be able to file a personal injury law suit against the truck driver or their carrier.
Why You Need The Law Offices of Jorge Luis Flores in Your Corner
Here are some of the reasons why our Covington truck accident attorney team is the perfect ally in your fight for justice:
Truck accident claims are highly complex
After a truck accident in Georgia, it's up to the injured victim to prove who is to blame. So, it is critical to show that the trucking company and others played a part in the accident to get the best compensation. But proving this is no walk in the park. Our legal team has access to experts in federal and state trucking laws, forensics, truck engineering, accounting, and medicine. Simply put, our truck accident attorneys know how to put the puzzle pieces together, gather evidence, negotiate strongly with the insurance company, and hold all the at-fault parties accountable.
Evidence is likely to disappear or be destroyed
Time is of the essence after a truck accident. Important evidence like skid marks, videos, debris, and damaged vehicles can vanish quickly if not protected. That's why we are on the case right away. We have our own crew of investigators and experts ready to jump into action without delay. We don't waste any time in obtaining the pre-crash information (regarding braking, speed, etc.) from the truck engine control modules because this data can be gold when it comes to establishing negligence of the driver.
We never back down
In truck accident cases, some law firms can't match the power and money of the multinational corporations. This could mean you end up with a way smaller payout than you really deserve. But not with us. At The Law Offices of Jorge Luis Flores, our truck accident lawyers are up for the challenge. From hiring top expert witnesses to gathering crucial evidence to identifying all the responsible parties, we will go in with a solid legal strategy to get you the most compensation possible, whether through a settlement or a court verdict in your favor.
How Much are Most Truck Accident Settlements in Covington, GA?
There is no simple answer to this question, as every truck crash is different and depends on various factors. Some of the elements that may affect the value of your settlement are:
The severity of your injuries and damages
The amount of your medical bills, lost income, and other expenses
The degree of fault and liability of the truck driver, the trucking company, and any other parties involved
The quality of evidence to support your claim
Generally speaking, truck accident cases settle for more than car accident cases, because the damages caused by large trucks are usually more severe. Your settlement can range from a few thousand dollars to several million dollars. Your legal team at The Law Offices of Jorge Luis Flores will be better able to give you an accurate estimate of your claim's worth.
Put Our Experience to Work for You! Schedule Your Consultation Today
When it comes to commercial vehicle accidents, you need to accept this fact: truck carriers and their insurance giants WILL try to deny or lessen your injury claim. For you, it's a life-changing event, but for them, it's just another day at work. As soon as the driver reports the accident to their employer, they will use their army of Covington truck accident lawyers to protect their money and reputation.
Let our skilled attorneys stand up to them. Over the past 21+ years, we have proven we can take on the big corporations, countering their every move while building our case. We know their tricks, and we will get ready for the trial even while we are negotiating. Give us a call at (770) 760-9292 or send us a message online to schedule your consultation.