At the law offices of Jorge Luis Flores LLC, we have been on the side of injured workers in Georgia for many years. We have the skills needed to negotiate with the toughest insurance companies, much more so when they try to take advantage of any employee who is fighting for their rights to get the compensation they deserve after sustaining an injury or illness at work.
Our workers' compensation attorneys are standing by to help you every step of the way, whether it is a matter of helping you file your workers' compensation claim, helping you find a doctor for your job-related injuries, or calculating the value of your lost wages. We have the legal knowledge of workers compensation law and the experience you can count on to help any injured worker sail through the rough waters of the complicated workers' compensation insurance claim process in Atlanta, GA.
We take all Georgia law cases very seriously and prepare them as though the final step will be going to court, even though our experience has shown us that most cases can reach a satisfactory settlement when one of our Atlanta workers' compensation attorneys is involved in the negotiations.
Do not wait to have your questions or concerns answered. Give us a call today and schedule a no-obligation consultation with a qualified workers' compensation lawyer. Let us hear your story and explain the legal options open to you when it comes to dealing with your employer or insurance company in Atlanta, GA and filing a workers' compensation claim for the injury you sustained at work.
The more you understand about Georgia workers' compensation laws, the more prepared you will be to understand your workers comp rights and the value of your case. Remember, you always have the right to have the legal representation of an Atlanta workers' compensation attorney, much more so in cases where the insurance company of your employer alleges that your injury did not happen at work or when your claim has been denied.
Call the Georgia workers' compensation lawyers from the legal team of the law firm of Jorge Luis Flores today to get your free consultation today. We are standing by and ready to help you.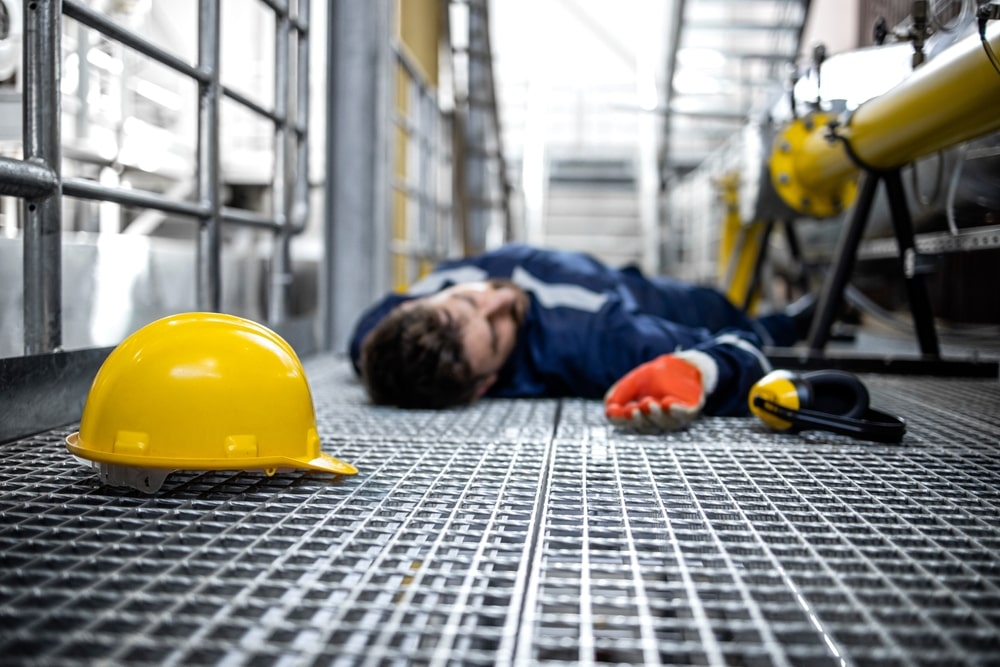 Steps to Take After Being Injured on the Job
When you are injured or become ill on the job, your GA workers' compensation attorney from the law firm of Jorge Luis Flores knows that there are certain actions you must take to care for your health and preserve your legal rights regarding your work-related injury. Here are some steps you must take to preserve your legal rights:
Start by letting your manager or supervisor know about your workplace injury. If you are too seriously hurt after performing a job-related task or other job duties, ask a coworker to get your manager to the scene.
Make sure that you are seen by a medical provider as soon as possible to start your medical treatment. Your injuries may call for a visit to an emergency room. Once you have received medical care, follow all of your doctor's instructions and treatments. Your medical provider should state in your medical record that the injuries are the result of an accident at work.
If your injuries allow it, take photographs of yourself, of your injuries, of the position where you are, and of anything else you believe might have contributed to your injuries.
File a workers' compensation claim with the workers' compensation insurance company for Georgia employers. Reach out to an Atlanta workers' compensation lawyer to make sure all is done according to the law, particularly, when the pain you are experiencing might not allow you to concentrate on filing the document with the workers' compensation system.
Take the needed time to rest and recover from your injuries. Receive physical therapy as recommended by your doctor, take all medications, and follow all medical instructions.
Start a file for your medical records. Include all medical bills and other medical expenses after your workplace accident. This information will be helpful in the claims process and for your financial recovery.
Can I Sue My Employer For Pain and Suffering in Georgia?
According to Georgia workers' compensation law, in workers' compensation cases, injured workers are unable to sue their employer when they sustain an injury on the job in Georgia. This is because workers' compensation is a no-fault system. This allows injured employees to get paid medical benefits and part of their wages through their work injury claim without regard as to who is responsible for the accident and their injuries.
In exchange for these benefits, they cannot sue their employer. This means that the laws regarding workers' compensation protect employers from being sued while at the same time permitting you to collect benefits to address your injuries while you are unable to go back to work.
Yet, in your particular situation, there may be a third party involved who may end up carrying all or some of the responsibility for your injuries. If so, you may be able to pursue a personal injury lawsuit against them to recover compensation for your work-related injuries. In many cases, the potential payout for a third-party negligence lawsuit to cover your bodily injury can be considerably greater than the amount that the workers' compensation policy will allow for medical benefits and loss of wages.
As an example, if your injury has resulted in you having to deal with severe or chronic pain, the compensation you might be able to receive through a third-party claim may cover your expenses for much longer than what you might have received through a workers' compensation claim.
Whether there is a third-party claim involved in your injuries or not, you should consider getting the right legal advice from an experienced workers' compensation attorney from the law office of Jorge Luis Flores. Let the experts take care of the legal aspects of your case while you pursue a full recovery from your injuries.
However, when it comes to pain and suffering, you would only be able to sue your employer after sustaining an injury on the job under certain circumstances. This could be:
When the injury happened as a direct result of an intentional act by your employer
When your employer does not carry workers' compensation insurance or any other type of policy even though they have three or more employees
When you became ill or suffered a personal injury because of an illegal act or due to an intoxication that your employer created
If you experienced emotional distress after witnessing another person being injured at work or mental anguish due to harassment on the job
Talk to an Atlanta workers' compensation lawyer about your workplace accident and your medical bills. Your workplace compensation lawyer knows all about workers' compensation claims in Atlanta, GA and can explain to you any disability benefits anyone may be entitled to receive after workplace accidents.
How Long Does a Workers' Comp Settlement Take in Georgia?
Any filing of workers' compensation claims must be approved by the Georgia State Board of Workers' Compensation. Thus, you cannot just agree with the insurance company regarding your payout which means that neither you nor the insurance company can pressure the other side to settle.
A settlement amount can be agreed upon after you and your workers' compensation attorney negotiate with the insurance provider.
Negotiations will start once you and your attorney have placed a fair value on your case and once both parties agree on the final amount you will receive, the settlement will go to the State Board of Workers' Compensation where it will be made final.
Make sure to take the time to talk to an experienced workers' compensation lawyer from the law office of Jorge Luis Flores and think about all the items that should be included in your claim since once the State Board approves your workers' compensation benefits, you will not have another opportunity to seek compensation for the same injury.
As far as the timeline, be aware that the legal process for a worker's compensation claim in Georgia will depend on factors such as the complexity of your claim, the compensation you are seeking, and whether or not there is a dispute over your eligibility for benefits.
Also, if you and your attorney cannot settle with the insurer, the process will be longer.
In the majority of cases, once a settlement with the insurance company has been reached, you can expect the State Board to review and approve your case within 30 days according to the Georgia Workers Compensation Act.
Once the insurance company receives confirmation about the approval, they have 20 days to provide you with the money or face a penalty of 20% of the amount owed.
When Should I Accept a Settlement?
This is a very individual question and the answer depends upon the injuries and the person involved. However, there are certain factors you can consider before saying yes or no to an offer from the insurer. These can be:
The amount you are being offered in workers' compensation benefits
Whether the agreement specifies when and if you will be able to return to work after accepting the settlement
The type and length of your future medical treatments
Whether the insurer is asking you to give up some of your rights for you to receive the settlement
Since other factors may also be involved in your final decision, discuss the matter at length with your legal counsel at our Georgia law firm before making a decision.
What Is the Maximum Workers' Compensation in Georgia?
Lost Wage Benefits
Georgia is known for being one of the states with the lowest workers' compensation benefits for lost wages. This means, for example, that the maximum benefit an injured employee was entitled to receive in 2019 was two-thirds of their weekly salary up to a maximum of $675 a week.
Medical Benefits
For medical benefits, the medical insurance will continue providing coverage for a maximum of 400 weeks from the date the worker got injured. In cases of catastrophic claims, the employee might be entitled to receive lifetime benefits.
Workers comp benefits may vary depending on whether you are considered to be eligible to receive temporary total, temporary partial, or permanent partial disability benefits.
Death Benefits
In Georgia, the maximum death benefit is $270,000 which is the equivalent of two-thirds of a deceased worker's average weekly wage up to a maximum of $675 for a maximum of 400 weeks.
If the employee dies after sustaining a work-related injury or illness, death benefits are available to their dependents which may be their surviving spouse, their children including stepchildren, legally adopted children, posthumous children, and acknowledged children born out of wedlock. This is true as long as they are younger than 18 or enrolled full-time in high school, younger than 22 and enrolled full-time at a college or university, or older than 18 and physically or mentally incapable of earning a livelihood on their own.
The surviving spouse can receive weekly payments until age 65 or the maximum allowed 400 weeks, whichever is longer. If the surviving spouse remarries or moves in with a partner, they will no longer be eligible to receive these benefits.
Workers' compensation benefits also cover funeral and burial expenses up to $7,500.
Talk to your Atlanta workers' compensation lawyers to get the full picture of the workers' comp benefits you may be entitled to after a work injury.
Count on the Law Offices of Jorge Luis Flores LLC for Your Workers' Compensation Claim
When you work with a lawyer from Jorge Luis Flores LLC, you know you have an expert by your side. We take your personal injury very seriously and will fight every step of the way to get you the compensation you deserve to deal with your injuries.
Call our offices and schedule your free consultation. We want to hear your story and understand what you are going through. This is an area of the law that is known for its complexities and there is no need for you to traverse this process alone.
We will conduct a full investigation into your case and gather all available evidence to fight for your defense. We will communicate with your doctors and with your insurer and keep you in the loop at all times. We will care for every detail of your case and never stop fighting until you get your benefits. Let us start working with you today.